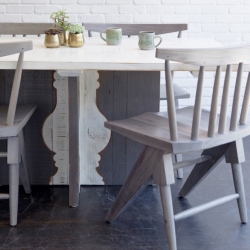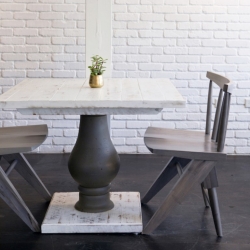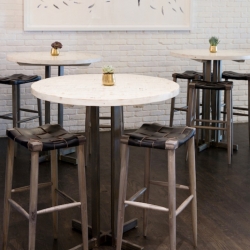 Sticking with her client's mission to be sustainably sourced, Jen Prugh Visosky from Grace Home Design contacted us to supply reclaimed wood tables for the Organic Lotus in Jackson Hole, Wyoming.
She incorporated three varieties of our pine community tables into her design of the wellness restaurant.
The Silhouette Table is our playfully modern and slightly primitive take on the traditional pedestal table. The 2x pine tops are distressed with white paint and placed on wood panel legs with the outline of a pedestal grooved into each one.
The Pine Timber Pedestal Table is constructed using a 2x pine top that sits on a pedestal base that is turned from a 12×12 reclaimed barn timber on a specialized log lathe.
The Wright Cafe Table also features a distressed round white top that sits on a substantial, counter height dark steel base.
All of the pine used to manufacture these tables was reclaimed from pine floor joists found in barns throughout the upper Midwest.
Guests experience materials designed with a modern twist when they dine in the new space. We love to see see our table tops in the background of all the Instagram food photos!
If you'd like to chat about your next project and how Urban Evolutions can help, contact us today or visit our Hospitality page for more information.